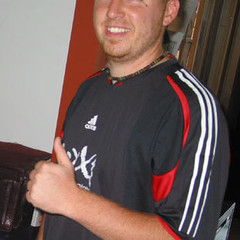 Marc D'Amico
Senior VFX Artist on Deadspace @ Motive.
Montreal, Canada
Summary
I've been in the CG industry professionally since roughly 1998. In 2003, after a stint in the film and television world, I made a move to video games as a live action compositor on Myst 4. Over time, I transitioned to real time vfx and tech art.
Having been a gamer, game maker and CG enthusiast most of my life, the challenge and goal of making film-quality VFX render in real time has always been what drives me. In my eyes, it's the perfect medium - where narrative and tech art meet.
I've learned so many amazing things since I started, technically and artistically. This industry just keeps growing and the art of VFX is only just getting started.
Skills
Art Direction
Shaders
VFX
Tech Art
VFX Direction
Software proficiency
Productions
Video Game

Dead Space Remake

Year

2023

Role

Senior VFX / Tech Art

Company

EA Motive

Video Game

For Honor

Year

2017

Role

VFX Lead + VFX TD

Company

Ubisoft Montreal

Video Game

Assassin's Creed - Unity

Year

2014

Role

VFX Artist

Company

Ubisoft Montreal

Video Game

Indiana Jones and the Staff of Kings

Year

2009

Role

VFX Artist

Company

Artificial Mind & Movement

Video Game

Kim Possible - What's The Switch

Year

2006

Role

VFX Artist + Environment Artist

Company

Artificial Mind & Movement

Video Game

Myst 4

Year

2004

Role

Compositor

Company

Ubisoft Montreal

Movie

Scooby Doo 2

Year

2004

Role

Rotoscoping

Company

Meteor Studios

TV Production

Inuk TV series

Year

2010

Role

Compositor

Company

Tube Studios